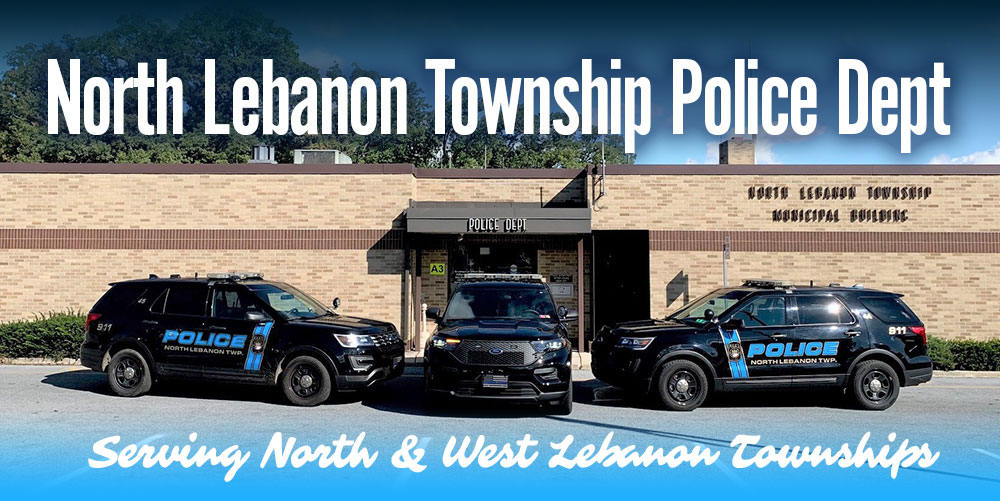 If an incident is an emergency or is presently occurring
and needs immediate attention, please

dial 911.
---
If you need police assistance with something that has previously happened, you have a non-emergency question or would like to report something that does not need immediate attention, you can contact our office between 7:30 am and 4:00 pm at 717-273-8141.
If you need an officer after normal business hours, you can contact the Lebanon County Communications Center, at 717-272-2054. They will take your information, and dispatch an officer to contact you.
We can also be reached via email, at police@nlpd.org.
Officers are available to serve as guest speakers, conduct bicycle safety inspections and create child fingerprint identification cards.
---
Welcome to the North Lebanon Township Police Department Website. It is our intention to use this forum to allow you to gain some insight into the North Lebanon Township Police Department, it's operations, personnel, and facilities.
North Lebanon Police officers currently provide services to North Lebanon Township, as well as contracting police service to neighboring West Lebanon Township. Our coverage area encompasses 18 square miles, with a population of 13,000 residents. This area includes shopping centers, industrial complexes, residential areas, housing complexes, state routes 72, 422, and 343, as well as farmland.
We are a full-service police department, and in addition to patrol and criminal investigations, have officers with training in specialties such as Community Policing, DARE (Drug Abuse Resistance Eductation), Motor Carrier Enforcement, Accident Reconstruction, Arson Investigation, Drug Interdiction, Forensics, and Code Enforcement.
All of these functions serve to contribute toward our mission to promote, preserve, and provide, as much as practible, a feeling of security among all persons within our jurisdiction(s).
Sincerely,
North Lebanon Township Police Department
---
History of the North Lebanon Township Police Department
The North Lebanon Township Police Department was organized in 1948, with Clarence Darkes serving as the Chief of Police and sole officer. In 1950, a second officer was added to the force, with a third officer added in 1958.
In 1976, the department consisted of 5 officers, a police secretary, and had 2 marked police cars.
Currently, the police department has 12 fulltime police officers, whose primary responsibility is code enforcement, 2 police secretaries, and operates 9 vehicles. In addition to providing protection to the citizens of North Lebanon Township, the department is also contracted to provide service to the citizens of West Lebanon Township.
The police department was originally housed on the main level of the township building, but outgrew the space and moved to the basement in 1974. In a 1990 expansion, the police department returned to the main level of the building. The police facilities have been renovated and expanded again in 2006, and now include a main office on the first floor, and additional space in the basement, including a forensic laboratory, evidence room, and workout/training facility. To see more, click on the "Virtual Tour" link.
---
The Federal Government has established a Fraud Hot Line for citizens to report any cases of fraud or suspected fraud.
If you have received a phone call, letter, or other means of fraud or suspected fraud communication, call…Fraud Hot Line 1-855-303-9470
---