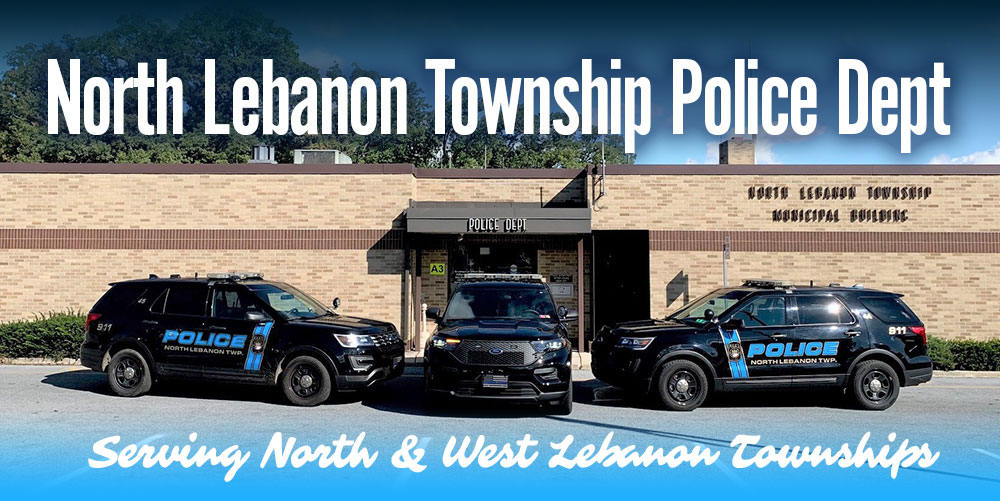 If an incident is an emergency or is presently occurring
and needs immediate attention, please

Dial 911.
---
If you have a non-emergency question or would like to report something that does not need immediate attention, you can contact our office at 717-273-8141.
We can also be reached via email, at police@nlpd.org.
---
Chief's Message
Welcome to the North Lebanon Township Police Department Website. My name is Timothy Knight, Chief of Police. I have served our community as a police officer for 25 years, the last 14 years of which I served as Sergeant. It is important to work together in accomplishing a common goal of having a safe community to live in, travel through and visit. Our Officers can handle a wide variety of situations. Their specialties include DARE (Drug Abuse Resistance Education), START (Serious Traffic Accident Reconstruction team), ESU (Emergency Services Unit), MCSAP (Motor Carrier Safety Assistance Program), Criminal Investigations, Patrol, and Code Enforcement. I am proud to work alongside our officers in this police department and serve our communities. I look forward to continuing my service to you as police chief. If you have any questions or concerns, feel free to contact me.
______________________________________________________________________________________________________
MISSION STATEMENT
The North Lebanon Township Police Department is committed to work in partnership, with the community, to provide its citizens with quality service and protection along with respect and professionalism to keep North Lebanon Township a safe place to live and visit.
---
History of the North Lebanon Township Police Department
The North Lebanon Township Police Department was organized in 1948, with Clarence Darkes serving as the Chief of Police and sole officer. In 1950, a second officer was added to the force, with a third officer added in 1958.
In 1976, the department consisted of 5 officers, a police secretary, and had 2 marked police cars.
North Lebanon Police officers currently provide services to North Lebanon Township, as well as contracting police service to neighboring West Lebanon Township. Our coverage area encompasses 18 square miles, with a population of 12,041 residents as of the 2020 Census. This area includes shopping centers, industrial complexes, residential areas, housing complexes, state routes 72, 422, and 343, as well as farmland.
---
The Federal Government has established a Fraud Hot Line for citizens to report any cases of fraud or suspected fraud.
If you have received a phone call, letter, or other means of fraud or suspected fraud communication, call…Fraud Hot Line 1-855-303-9470
---